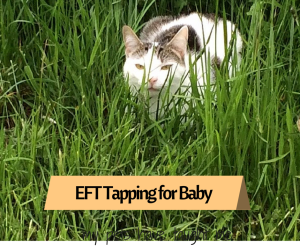 If you follow my blog, you'll know that EFT tapping is one of my favourite tools for helping pets … and their people when their pets are unwell or unhappy.
It's today's post I'd like to share a recent example of how using the tapping can help us pet people, when our beloved furry friends are unwell.
In this case, I'm using myself as the example, as after becoming aware that my sweet cat Baby has a mystery skin condition I found that I really had to use my tapping so that I could practice what I preach – and stay calm, collected and useful for her, rather than getting worried, anxious, upset and confused, which is what started to happen. I noticed the classic fears and worries surface, the ones that my clients come in with. Some of them may be familiar to you. The good news is that they're all 'tappable'.
My hope is that my story can help you see how the tapping can be such a help to us when we're feeling emotionally upset or challenged when caring for an ill pet (of course it's also a great help to the pets themselves). If you're new to 'tapping', you can find out more about it here.
Letting the past colour the present.
This was the first pitfall that I fell into when Baby's skin condition flared up. My sweet Elvie cat, who died last year, was prone to skin issues. They were recurrent, unpleasant and quite a challenge to treat. They never did really resolve. So when Baby started to show skin issues, even though they were different from Elvie's, I felt panic set in (what if it's hard to treat, what is it's recurrent like Elvie's was) and when I went to the vet and was given medication to add to her food, it was the same medication Elvie often had (it coloured the food pink, so it was very memorable).
So, I tapped on the memories of Elvie's vet experiences, of the memories it brought up of his skin conditions, of the guilt at them not clearing easily, of the stress of medicating him and of the sadness of his passing earlier than expected. I knew that by doing this, it would then be easier to focus on what to do about Baby's issue with a clear head and without being influenced by the past.
Guilt, judgement and worry.
The next discomfort that came up for me was worry (especially when the vet couldn't easily diagnose her condition) and … guilt.
I started to worry what I might have done wrong that could have led to this condition and I'll admit that I also felt badly that my energy healing work alone hadn't been enough to clear it in the early stages (it's so easy to be hard on ourselves when we're worried and stress and to add self judgement to the mix like I did). So, I did some more tapping, as I knew that I was in my 'monkey mind', that crazy stressed state where everything seems more extreme and upsetting. As I mention in this week's video, if that guilt or worry resurfaced, I did some more tapping – sometimes you just have to 'rinse and repeat'.
FYI: I talked about that 'stress talk' and stress state in my Thought Gardener blog last week and have a few extra tips in that blog post. Click here to read it.
Agenda.
Next, I noticed myself researching and looking for extra ways to support Baby. Now that can seem sensible and like a great thing to do, and it can be. Yet, I noticed a kind of desperation and fear behind my researching – a need to find a solution fast. So, I did some tapping on those underlying feelings and it allowed me to soften my approach and to get more curious, rather than feel 'desperate'.
This helped me in several ways. It gave my mind space to remember about Zoopharmacognosy (where the pet self selects from herbs and oils), you can find out more about that in this post I wrote last year where I also interview Applied Zoopharmacognosy Practitioner Rachael Windsor-Knott of My Animal Matters, who happens to have a new online shop opening very soon for self selection supplies in the UK. Do check her website for details of that .
That felt like the perfect approach, but in my 'desperation' I hadn't been able to 'see' that option. Also, it led to a wonderful insight that came up when I next tuned in to see how Baby was doing. (Have a look at this week's video, below, to find out what it was). That insight surfaced because I was in a more relaxed state, which allowed my intuition to come to the fore.
What's changed?
It's still early days and there is more work to do for Baby yet I know without a shadow of a doubt that the tapping I've been doing for myself has helped me to get out of worry and stress, to be clear headed and to be more of a contribution to Baby's healing journey. It's helped me to be more optimistic and creative in my approach and to be a more calming and positive presence for Baby at this time.
---
Update: Just two days after making the video and tapping about this Baby's skin really started to improve and the affected area has shrunk by about 35% already 🙂
I've also just started offering her herbs and oils to select, under the guidance of a local practitioner, and I'm finding it fascinating, so watch this space for more about Baby's healing process.
---
Video
In this week's video I share my experience with this tapping and I give a few tips and a mini 'pep talk' to help anyone else who is dealing with the stress of their pet being ill.
Click here or on the image below to watch the video.
Try it for yourself.
If you are reading this and you're feeling any of the emotions or upsets that I've described earlier, please don't judge yourself and do try tapping to ease that discomfort.
You'll feel better and your pet will pick up on that. It's a win win situation.
If you're new to tapping and would like to learn more, check out my free video series, which shows you how to tap for both yourself and your pets.
You can sign up for it by entering your name and email address below.
Thanks for reading and happy tapping.