To help people cope with the pain of grief after a beloved pet dies, I created a short guide 'The Mini Pet Loss Survival Guide'.
In it I share some home truths about grief and 7 of the tried and tested suggestions that have helped many of my clients to soften the pain of their grieving process.
As part of my mission to help people ease their suffering when their pets die, I would like to share it with you for free.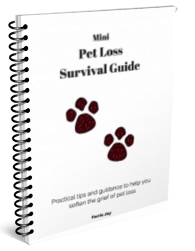 As an extra resource I will also share an audio message that I created shortly after the death of two of my cats at the end of 2015.
These are the words I wish I could say to everyone who is suffering after the loss of a beloved pet.
Just enter your name and email and press 'submit' below to get access to both the "mini Pet Loss Survival Guide' and my spoken audio message for free.
Thank you.